Cranberry relish is an approachable and festive treat that can be used in many applications. Unlike its' "jellied sauce" cousin, the flavors are fresh and not overly sugary while offering a freeform texture.
In this recipe, you will find a balance of fruit and sweetness that allows the beer flavors to be highlighted. The Belgian-style golden ale I used was PranQster from North Coast Brewing. This particular beer is special to me, as it was my "gateway beer" into craft beer. Five years ago, I took a road trip up the California coast to Fort Bragg and got a taste right from the Source. I got lucky and found myself eating lunch at the bar, next to the Head Brewer and creator, and fell even more in love with the beer and brewery. PranQster is great for cooking, as it enhances fruity flavors while its delicate yeast strains create a complexity that makes you want to keep coming back for more.
Served over cream cheese and with stone ground crackers, the Cranberry Relish will make a great appetizer at your Thanksgiving Gathering
Prep Time: 30 minutes
Yield: about 2 cups
12 ounces Fresh Cranberries, roughly chopped
12 ounces Belgian Golden Ale Beer
3-4 sprigs Fresh Thyme
1 large Fresh Apple (I used Honeycrisp, but any apple will work)
1 each Fresh Orange, juiced
1/2 tsp Kosher Salt
2 Tbsp Honey

1. Slowly simmer the berries and beer together with fresh thyme sprigs. Allow to reduce until all liquid is gone. Remove thyme twigs and allow to cool to room temperature.
2. Remove the core from the apple and cut it into chunks, placing it into a jar (if you are using an immersion blender) or into a bowl of a food processor with the blade attachment.
3. Squeeze the juice of 1 orange into the mixture and add honey and salt.
4. Puree until a gritty pulp is formed.
Keep chilled in an airtight container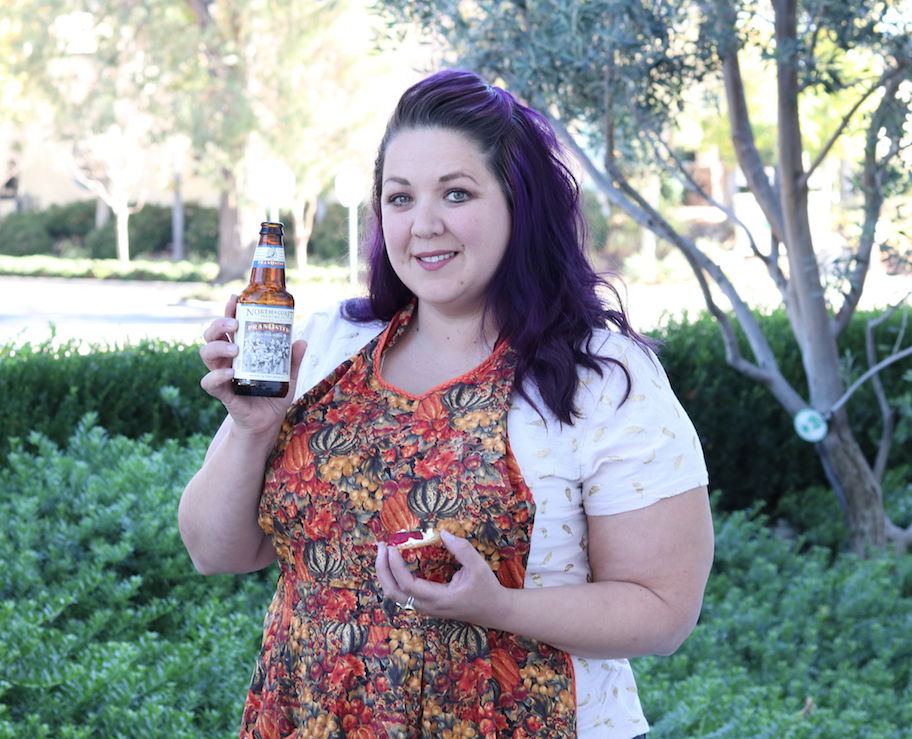 Written by Julia San Bartolome
Chef Julia San Bartolome has been a professional pastry chef for 20 years and has a passion for cooking with beer. Owner and pastry chef of Sweet Arleen's in Westlake Village (known for winning Cupcake Wars on Food Network 3 times) she spends her mornings baking fresh cakes and cupcakes, and her evenings sampling all the craft beer she can get her hands on.
@mommybeerest on Instagram