Like so many things since the start of the COVID-19 pandemic, Valentine's Day is going to look different this year. Instead of flocking to fancy restaurants, more Americans will choose to celebrate at home, and delivery services like Tavour are catering to this shift. They work with over 600 independent craft breweries to ship the country's best beers right to your (or a loved one's) door.
And, according to Scotty Hunter of Ohio's Urban Artifact — where they make some of the most popular brews on Tavour's app — more people are celebrating the holiday with beer than ever before. "I think the way beer has evolved to express so many different flavor concepts over the years has lent itself to many more occasions. We often see breweries push this with Valentine's day 'themed' beers typically involving chocolate, but there are very elegant barrel aged sours and wine hybrids, as well."
Consumers have taken notice! Tavour saw demand for their specially-curated gift boxes double in the weeks leading up to Valentine's Day last year, and they expect to deliver even more in 2021.
To help choose the best brews for you and your sweetheart, Tavour offers their top picks for 5 of the most romantic beers to hit their app this season:
Bourbon Barrel Raspberry Stout with Vanilla Beans – Hardywood Park Craft Brewery, Virginia
Nothing says 'Be Mine' like a fresh baked treat, made by hand. But, who has that kind of time? Packed with chocolate malt, cacao nibs, and late-season red raspberries from a local Virginia farm, Bourbon Barrel Raspberry Stout with Vanilla Beans (2020) is a desserty sipper right out of the gate!
Maturing in bourbon barrels adds drizzles of molasses notes to the berry chocolate torte-like decadence, while finishing on Madagascar vanilla beans gives it a dollop of whipped cream. At 11.5% ABV, it's pretty much guaranteed to put anyone in a romantic mood, no baking required.
Honees Honees Golden Ale – Oliphant Brewing, Wisconsin
The crew at Oliphant loaded this Golden Ale with gobs of real honey, so if you're looking for a sweet treat for YOUR honey, this one fits the bill. They also added a silky-smooth dose of lactose and plenty of peanut butter. It's just like a PB&H straight from your 4th grade lunchbox!
If that seems like an odd choice for Valentine's Day, just close your eyes and remember those February 14ths back in elementary school. Cutting hearts out of pink construction paper, delivering valentines to your classmate's desks, and blushing when you give one to someone who really strikes your fancy. If you want to recapture that feeling, just split this brew like a sandwich and give half to your sweetie. Try not to blush.
Love Letter Peach Sour Ale – Urban Artifact, Ohio
Just about everyone wants to receive a love letter on Valentine's Day, but not everybody is a wordsmith. Fortunately, the folks at Urban Artifact have written a sonnet in the form of a tangy Peach Ale!
And, it truly is a labor of love. To create this romantic refreshment, the brewers used over 3,200 lbs of fresh, white peaches per batch! The smoothie-like pour is thick as purée and smells like a slice of fresh, drippy stone fruit heaven. An addition of creamy vanilla beans adds smooth sweetness to the finish. It's like a richer, more luxuriant version of a Bellini cocktail!
Tripleberry Hazelnut Smoothie Stout – Untitled Art Brewing, Wisconsin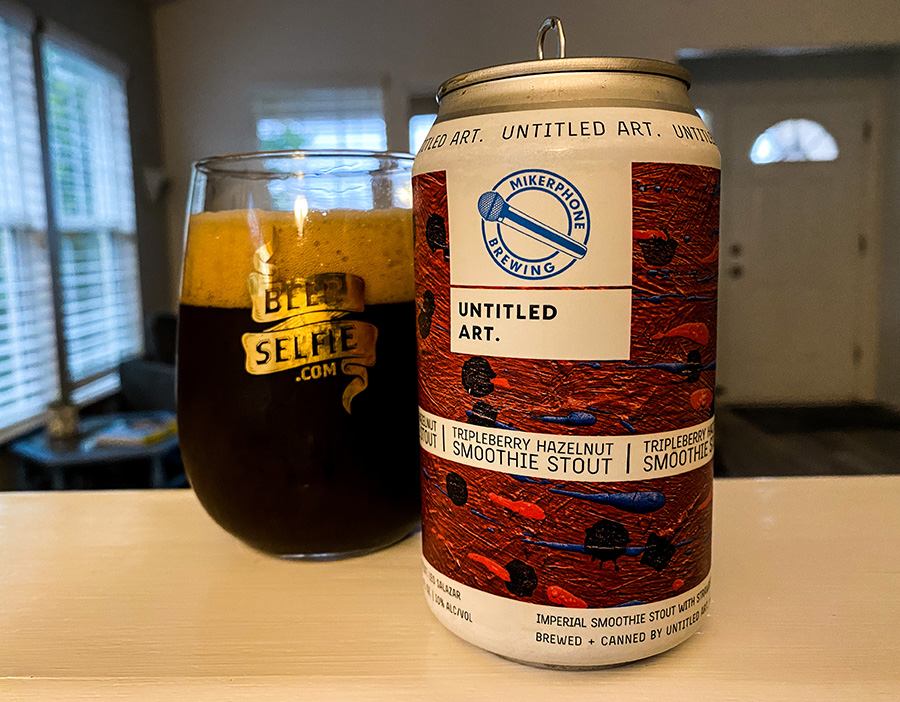 When it comes to romantic foods, it's hard to top chocolate-covered berries. But, if you and your sweetie try sharing a plate of the real thing in front of crackling fire, you're liable to end up with melted chocolate all over your bearskin rug.
Fortunately, the brew gurus at Untitled Art teamed up with the beguiling brewers at Chicago's Mikerphone to create a boozy substitute that won't make a mess! They used strawberries, raspberries, blueberries, hazelnuts, cocoa nibs, and creamy milk sugar to make this brew taste like a blend of chocolate ice cream and fresh, triple-berry jam and a dollop of Nutella.
Cherry Springer Mead – W A Meadwerks, New York
Of course, maybe you and your beau aren't the Valentine's types. Maybe you'd rather skip the fancy festivities, snuggle up in front of the T.V., and just enjoy being together. That doesn't mean you can't enjoy a romantic beverage on the most romantic evening of the year!
The Mead masters at W A made this Honey Wine with real cherries and luxuriant vanilla, so it tastes like a melty stonefruit gelato from a cozy Italian bistro. Whether you watch Masterpiece Theater, or something with 'Real Housewives' in the title, your evening is bound to feel a little classier with a glass of this bright red Mead in your hand.
It's all the fanfare you need for a quiet Valentine's eve.
This year, while everyone else is raiding the candy aisle, just download the Tavour app, and you can browse a selection of sweet, decadent, craft beers in flavors you might not have known even existed. While these brews don't come in a heart-shaped box, they'll certainly make your Valentine's Day a little more romantic.