Greetings all! As most of you know, there are many great beer weeks within our craft-loving country. Days dedicated to styles. Weeks that worship breweries and the cities they reside in. And even months that are meant for us to marvel at all things done in this amazing industry. Now, I had the absolute pleasure to attend a preview event on BeerSelfie's behalf for one of the most well-known beer events on the West Coast. An event where breweries from all over come together for collabs, events, and to drink great craft beer. I'm talking about SF Beer Week y'all! The preview event held in Berkeley was for us media beer nerds who wanted to get a sneak peek to see what some of the Bay Area's finest establishments were brewing within their hop-filled walls.
The main goal of events like this is to give a select group of people a beautiful glimpse of what breweries have been planning to drop when SF Beer Week kicks off. Not only that, but there were new label debuts, collaboration announcements, and a chance to talk with the brewers and marketing people behind all of the amazing beer. It's basically a craft beer lover's dream come true. Pulling up to the Double Tree in Berkeley, I honestly had no idea what to expect. I had never attended a REAL beer event before, let alone write an article about it! Yet, here I was. Green-eyed and eager to see what the Bay was cooking up for this iconic week. I was met by friendly faces and some handouts detailing the breweries and beer that were being featured that night. I didn't even try to hide my excitement. Henhouse, Fogbelt, East Brothers, Russian River, Seismic, Trumer, Original Pattern, Temescal, The Rare Barrel, and several others all were there and ready to showcase their best stuff. I got my glass, made sure my phone was charged and started off my beer tasting.
I made a beeline for the Trumer booth first. I always love to start off any tasting with a crisp, clean Pilsner if it's available and when there's a Pilsner of Trumer's caliber up for grabs, well, then it's a no-brainer. I chatted it up with a few of the folks from the brewery, one of them being the head brewer himself. Really, I just wanted to thank him for making such a classic style and having it be so consistent every time. I also go to try their newer Marzen and G-Dang it was excellent. Staying true to the Oktoberfest style it emulates, it had malty, slightly caramelized notes, and a great chewy bite at the end. Nothing short of perfection. Next, I was met with warm smiles and cold beers at the Original Pattern booth. Being based out of Oakland, I was shocked at how unfamiliar I was with them and their beer, but I was still thrilled to try it all the same. They were slinging some seriously delicious IPAs – both hazy and classic – that was making my mouth water just from the smell of them. All of their beers had incredible depth, and smooth bodies, and displayed those hops beautifully. The favorite that I would want to be buried with was the Lucid Dreams. A hazy IPA that was incredibly balanced with Haze, Tropical Stone Fruit, and floral bitterness. I highly recommend that you find them (either during SF Beer Week or just in general) because they take immense pride in their craft and the 3 gentlemen I talked to reassured me that they have a lot of fun doing it.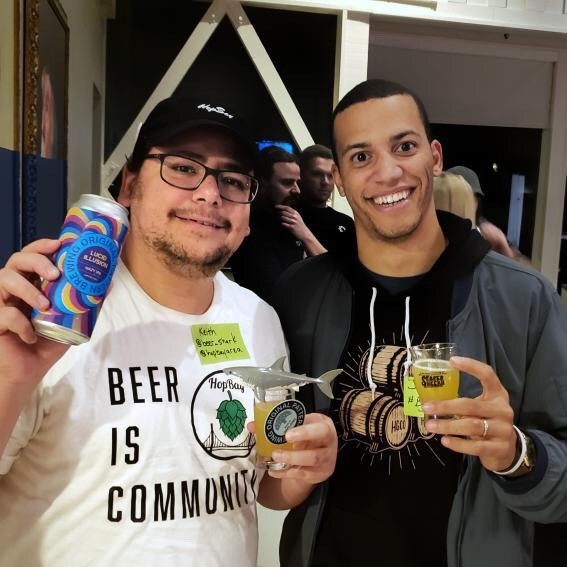 Next up was Temescal Beer Co. I've seen their beer getting more and more love on social media so I was really anxious to try their stuff. My favorite? THE PILSNER. In no way is that a knock on the other beers I tried but there's something about a well-done Pilsner that makes you truly appreciate the care the brewery takes to represent such a classic style. It would be the perfect accompaniment for some delicious pizza so if you find yourself grabbing some pizza in Oakland, there's really only one beer that should be bought with it. After Chatting with the people of Temescal I made my way up the steps to the other booths and started off with a brewery I have been dying to get to out in Oakland – Ghost Town Brewing. I had been hearing A TON of great things about them and was just never able to get over there. Lo and behold they happen to be showcasing some of their best stuff at this event and I was now staring their beer straight in the face. I sampled to my heart's content and was happy to do so. While making small talk with the founder and one of the head brewers for a few minutes I sampled one of their brews and it made me stop mid-sentence and marvel at the sheer awesomeness of it. That beer was Sacrificial Oat, a Hazy IPA that had some UNREAL depth and hop aroma. Using Citra, Mosaic, and Simcoe hops, the dry hop the heck out of this thing causing it to exude notes of floral piney-ness and tropical fruits with every sip AND smell you take. I was floored – in the best possible way. After gushing to the Ghost Town gents I meandered to the other end of the room to make sure I hit the Almanac Brewing booth next. I love their beer and have always thought they do a lot of different styles extremely well. This event furthered my love for them. I can honestly tell you that ALL of the beer I tried from them was fantastic. But there was one in particular that stole the show in my opinion. I got three words for you: Bourbon. Barrel. Peach. Boasting BIG barrel-aged characteristics, this sour by Almanac was absolutely bananas. You had the textbook tartness from the sour but it was a fruit flavor bomb with those peaches marrying well with that iconic vanilla smoothness from the bourbon barrel. I wanted to grab the cooler and just leave. But I figured that would be rude so I just geeked out to the folks at Almanac for about 7 minutes straight instead. YOU MUST find this beer during Beer Week. If you're a sour fan, you'll thank me later.
Then it was time to visit a booth that may have lacked in size but more than made up for it with its substance and beer quality. I'm talking about The Rare Barrel y'all, a brewery out of Berkeley who prides themselves on their exceptional barrel program. And they should be proud G-Dangit! I'm going to list the three beers I tried because they were honestly all fantastic and so unique that it was hard for me to just single out one: Map of the Moon (Golden Sour aged in oak barrels with apricots), Soakin Up Rays (Golden Sour aged in oak barrels with passion fruit and pink guava), and Blurred T (Tart Saison aged in oak barrels with Tempranillo grapes). Being a wine lover myself, I was immediately drawn to the latter of those three. I loved how they chose to make the grapes shine with every sip while also giving the beer complexity and depth. If you're a wine lover it's a must-try. If you're not, well those other two were equally delicious. Another brewery you must find during SF Beer Week, hands down. After my Rare Barrel visit, I decided to do a 180 and see some folks who love to keep things simple and let their classics do the talking – East Brother Beer. You've undoubtedly seen their Lager and Pilsner all over the place, and for good reason. Both are labors of love and solid crushers perfect for year-round enjoyment. They were also pouring their Red IPA and when I saw that I wanted to let them know that theirs is one of my absolute favorites. Love the malty, chewier body on it and the fact that they were still able to get some great hoppy bitterness on the back end makes it a true "as advertised" beer. They also had their English Strong Ale that I was unable to try, unfortunately. But those dudes know their beer so I'm sure that strong ale is killer as well.
From the gems at East Brothers, I moved on to a booth whose brewery I had never heard of -Fogbelt. Hailing from Santa Rosa, they were pouring literal liquid gold as each beer I had from them was better than the last. The one that was completely mind-blowing was the Paloma Cocktail IPA. Bursting at the beer seams with big notes of tropical fruits and a whole lot of grapefruit. Couple that with a thick, hop-filled body and you have yourself an amazingly innovative IPA. I highly recommend that you get your hands on this somehow because holy craft cocktail concoction batman it's good. REALLY GOOD. They also had their Stardust Juicy IPA and a collab Fluffernutter Stout that also blew my mind. The last booth I hit up was the fine feathered folks of Henhouse (just kidding, they don't really have feathers). I came into the event absolutely loving their beer and I left loving their people even more. So incredibly friendly and knowledgeable about their product. They were dropping some new merch as well as pouring some AMAZING beer. Honestly, ANYTHING you get from these guys is going to nail the flavors but if I can make a recommendation – be sure to try some of their Big Mouth series. Just like the name suggests, all the beer boasts BIG mouth-feel flavors that'll put your palate in a juice-filled choke hold.
If you can believe it, of all the booths a visited there were still some breweries I wasn't able to get to. So many beers, and so little time. Regardless of that though I left this event knowing one thing for certain: The Bay came out to PLAY this year. The beer that'll be flowing during SF Beer Week will be some of the best yet. You can taste how hard all these breweries worked to perfect these new releases. The time and care they took shine with every sip. I want to thank the guys at BeerSelfie for allowing me to cover this amazing event. Also, special thanks to Gail Williams and the rest of the SF Beer Week media team for putting together such a fun, informative night for us. And lastly, a BIG thanks to all the breweries who participated. Supporting craft beer is a privilege for us as consumers and the fact of the matter is that we are spoiled with great options out here in the Bay. As you attend this amazing week think about the brewers behind this beer. The people behind marketing their beer. The stories each beer brings to the table. There's no way you can attend SF Beer Week and not appreciate where the current state of the craft beer industry is. Lastly, if you are going, have fun. Be safe. Enjoy all the amazing beer you possibly can. Cheers!
Written by Jordan Perkins
Jordan works in the alcohol distribution industry and has a passion for family, writing, and all things beer (both drinking and brewing it).