The U.S. has designated February as Black History Month each year since 1976. Noted historian Carter G. Woodson is known as the brainchild of this celebration of Black Americans' achievements and recognition of their central role in our nation's history.
Black History Month offers an opportunity to spread the word about the lack of diversity in the craft beer industry. A Brewers Association survey showed that Black Americans make up 12% of craft beer drinkers. However, only about 1% of craft breweries are Black-owned.
The craft beer delivery app Tavour is joining up with some of the top-rated Black-owned breweries in the U.S. These breweries are bringing more awareness to their delicious beers and making them more accessible to craft fans in up to 27 states through Tavour.
For this year's Black History Month, Adam Band of Fresno, California's Full Circle Brewing, is releasing a series of collaborations with other Black-owned breweries.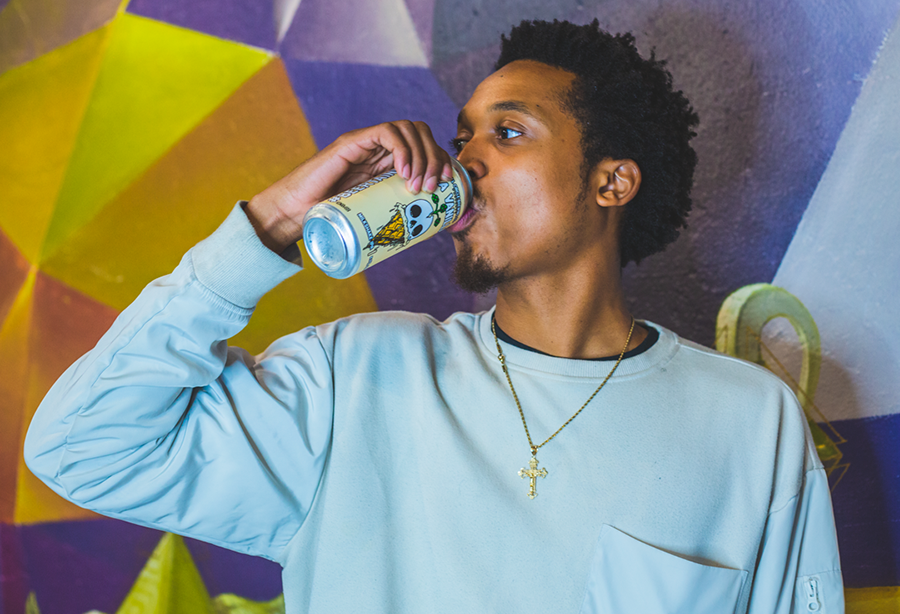 The first is part of Sacramento's Oak Park Brewing Mixed IPA 4-pack. They crafted each beer in conjunction with a different brewery and in a different IPA style. In a recent announcement, Oak Park said, "collaboration brings this powerful educational art to your eyes and hand in a can." Its impactful label art was designed by renowned artist Milton 510 Bowens. Full Circle's contribution comes in the form of a Hazy IPA called Eye Am A Revolutionary.
For their second Black History Month collaboration this year, Full Circle teamed up with Inglewood's Crowns & Hops Brewing to craft a Fruited Sour. The two breweries are still keeping the details under wraps — all they'll divulge is that it will be jam-packed with fruit.
Those interested in more information on Full Circle's groundbreaking ventures should keep an eye out for their upcoming beer releases on Tavour and check out their Invest tab for details on how to support them.
Baltimore's Union Craft Brewing helps put on an event called the Melanin Market each February to highlight other Black-owned businesses in their community. Co-founder Adam Benesch admits it's much more challenging this year amidst a pandemic, but they're working on transforming the popular event into a virtual marketplace.
Keep an eye on Union Craft's Instagram page and the Tavour app. Benesch is excited for several of their February releases like Alpha Test, a West Coast DIPA, Mountain Girl, a traditional Hefeweizen, and Steady Eddie IPA, named after Black baseball legend Eddie Murray.
Orange, New Jersey's Four City Brewing is coming out with some crave-worthy new brews during Black History Month. The first is their confidently clean and clear Four City West Coast IPA. The second is an homage to the country's first Black American woman Vice President, Kamala Harris, and others in groundbreaking new positions in government. They've decorated their Keg Stand Lager in red, white, and blue.
Four City co-founder Roger Apollon Jr. urges the importance of highlighting current events that mark historical shifts. It's evident in the messaging they've created on social media. He acknowledges that there's a growing focus on black-owned, minority, and women-owned businesses, but he's "hoping this is one of the last years we separate Black History from American History because Black History is American History."
St. Petersburg, Florida's Green Bench Brewing isn't doing any public events for Black History Month, but is very actively supporting some private ones. Co-owner and Headbrewer Khris Johnson says they are hosting a private event for Green Book Tampa Bay. Green Book was a historic resource used to find Black-friendly businesses during times of segregation, and has inspired a modern movement to highlight current Black-owned business and support the career paths of Black American students.
With their tie-in to the craft beer community, Green Bench collaborated with Beer Kulture, where Johnson is the Vice President, as well. They created a single-decocted German Pils called Kulture 'Tings, and every dollar made goes to Beer Kulture, an organization that creates opportunities that foster diversity, equity and inclusion within the craft beverage space. Johnson is also on the board of directors of the Michael James Jackson Foundation to create scholarships for people of color, and they are excited to announce the first scholarship winner for Black History Month.
If you're not in Florida and would like a taste of Green Bench, scout them out on the Tavour app. Johnson says they're really excited for their newest release, Random Reality Shifts. It's a mixed culture, foeder fermented Wild Ale they aged in wine barrels for over a year before refermenting it on Balaton cherries for nearly a year as well!
For many Black-owned breweries, the meaning and values behind what they do reach far beyond the product. By shining a spotlight on some of the craftsmanship and dedication in the Black-owned brewing community, this year's Black History Month has the potential to create more opportunities within the craft beer industry.