Combating the challenges of 2020 has led to some of the most innovative creations in craft beer. Not just with the liquid either — packaging design has transformed, and some brewers have even introduced beer-influenced tech accessories!
These creative ventures have helped breweries connect with their fans, but during a year where connecting was ultra-difficult, the independent craft beer delivery app Tavour has provided a way to get the brewery's inventions into the hands of beer enthusiasts.
Here are the most innovative beer designs Tavour members geeked out over in 2020:
Falling Knife Brewing Company Peel-Away Stickers
Everyone loves stickers, beer nerds included. So, Falling Knife created cool pick-em and stick-em style tattoo art that you call peel right off of their beer cans and slap 'em on your laptop, snowboard, or wherever you like.
Anchorage Brewing Glow-in-the-Dark Wax
Wax-dipping, especially fancy Barrel Aged Stouts and Barleywines, has become a recognizable symbol of prized beer. The same boundary-pushing crew that waxed-dipped the bottom of their sought-after A Deal With The Devil beer cans, also caught a glow-up after crafting glow-in-the-dark wax-dipped bottles for Wendigo — their Barrel Aged Stout/Barleywine hybrid.
Junkyard Brewing Offers Downloads of their beer label art as wallpaper For Your Phone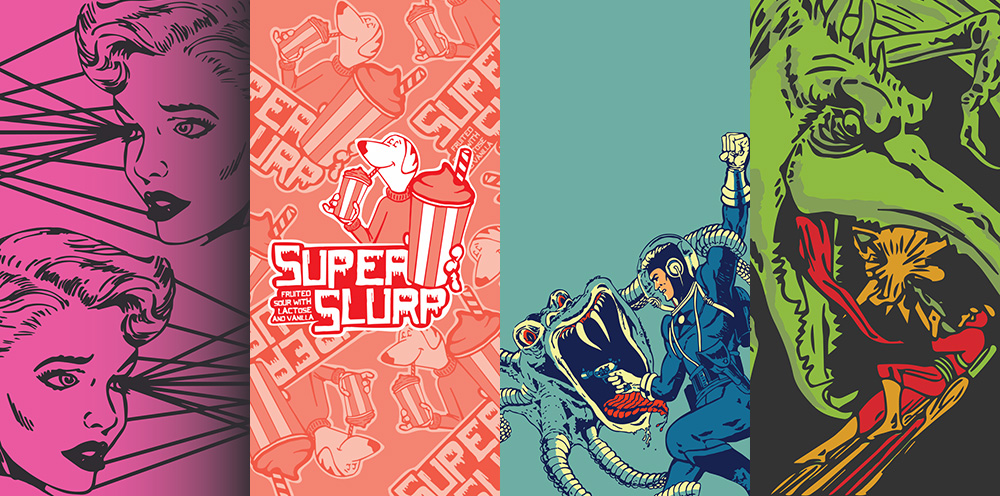 Perhaps the days of collecting empty beer cans and storing them in our basements are behind us. Junkyard brewing is zooming into the digital age with downloadable wallpaper for your Android or iPhone. The designs come straight from their can labels.
Adroit Theory Brewing Hid "Easter Eggs" in their Comic Book Beer Labels
Adroit Theory is known for a love of dark brews and the dark arts. Their beer labels are based around wicked comic book style stories with characters that evolve along with the brews in their series.
Some of their most creative concepts involve hidden messages, clues, and easter eggs that their artists camouflage into their label designs.
Check out the label for All Shall Perish Imperial IPA. Artist DARKO designed it with inspiration from Rorschach of Watchmen, if you look closely, you'll find all sorts of hidden messages like 1. They replaced the "happy face" pin on his lapel with the brewery's logo, complete with blood splatter. 2. In the lower left corner is a bottle with the All Shall Perish label on it, thus creating an infinity loop. 3. On the left is graffiti that spells out Abandon All Hope which is the name of the beer that followed this release, and a consistent phrase from the comic. 4. On the right, also in graffiti, is the brewery's slogan: Consume Life.
Evil Twin Brewing Introduced Cool New Tiny Cans
Over the past year, one of the biggest trends in beer cans has been breweries putting all of their beers into 16oz tall-boy cans. They've even packed beer styles that were traditionally always bottled into tall cans, like like Saisons, Barrel Aged Stouts, and Barleywines.
Evil Twin found a solution to the demand for big ABV brews in single-serving sizes with their new tiny 8oz cans. You can find two of their latest, 14% ABV Barrel Aged Stout releases — Blis Bourbon Maple Syrup and Blis Sine Qua Non Red Wine Barrels — both in these cute little cans.
There's always something new and exciting coming out of the ever-evolving craft beer scene. To make sure you keep up with the trends, check out the Tavour delivery app. There, you'll find the latest releases from all of the breweries featured here and hundreds of other top-rated beer designers from around the country.