Tell us a little about yourself. Where are you from? Day job? Non-beer related hobbies?
I'm Eric. If you're here and reading this, you may have seen my Instagram @ipas_suck where I shit on the things you love. Hiyeee! I'm a native New Yorker from Rockland County, living in Brooklyn for the last 12 years. I spend the majority of my time as a Paralegal at a corporate law firm. I love Metal, Hardcore, and Punk music and have a thrash/hardcore/whatever band named Zombie Apocalypse (@zonbiapocalypse) that has a new album coming out early next year. Check us out on Spotify, iTunes, etc. I also write beer themed songs for my Instagram (available for free download). That doesn't really have a name but I've been referring to it as Alcoholicore.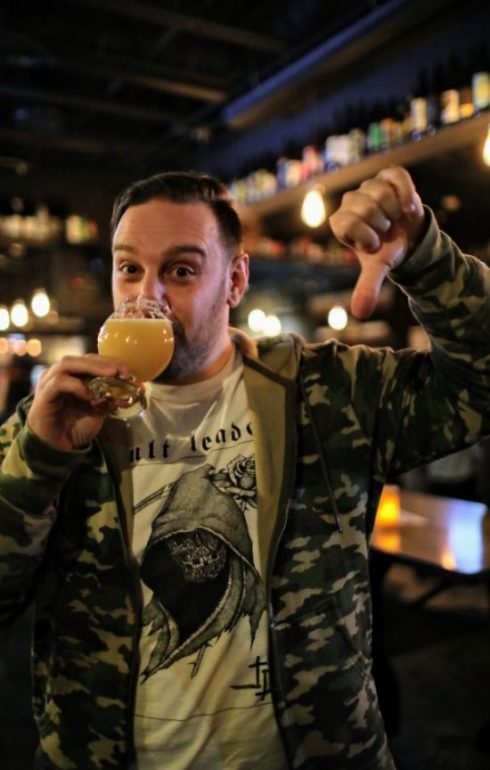 How did you get started in craft beer?

During college, and for a short while after, I lived in CT and was fortunate enough to get a job at a wonderful place in Middletown called Eli Cannon's (@elicannons). It was around 2006 or so and is where I cut my teeth on craft. I'd always had an affinity toward German beers and that didn't change, but Eli's taught me about all of the other styles. There weren't a ton of solely craft beer bars around at that time, much less one with 40 taps and things like North Coast Red Seal and Old Rasputin, Xingu, Lagunitas, Otter Creek, and smaller breweries like Opa Opa, etc. It was a great place to learn, taste, and be. It still is and I try to go there whenever I visit CT.
How did your instagram get started?

My two friends (and partners in @ipas_suck) were going on a road trip leading up to my 35th birthday. They invited me along, reluctantly because they were going to breweries that focused on IPAs (Treehouse, Trillium, Nightshift, Hill Farmstead, and Alchemist) and they knew I wasn't in to that. I agreed to go, and when we pulled in to the old Treehouse location, my mind was blown that so many fucking dolts were waiting in line outside of this shit shack. I asked my friend something like, "yo, what the fuck?" and he explained. He then said, "yeah…it's real bad" and showed me IG and YouTube reviewers and joked that I should start one where I give my opinion on IPAs. We came up with IPAs Suck on the spot, went to BT's Smokehouse and started filming. I thought it'd be funny for our 5 friends to follow for the trip and then I'd end it. Here we are…
I'm trying to understand your Instagram, but I may be too old and boring. Is "the Colbert Report of IPAs" a fair description?

Ah, so you think I'm a caricature? Presumably because what fucking idiot who purports to hate IPAs this much would drink them all the time and spend money/trade for whalezzz (bro) and "fire," right? Well, sorry to break the 4th wall but I am that idiot.
I guess "the Jackass of IPAs" is more appropriate. It's sheer, self-inflicted punishment for humor's sake. How many ways can you think of to say something is awful? It's not easy, so we do reviews, characters, skits, all while getting hammered and cracking up. It's an awesome way to be close with my best friends.
You've been banished to a desert island…which three beers are you bringing with you?
Schneider Weiss (Original Tap 7), Boon Kriek Marriage Parfait 2014, Jester King Grim Harvest
What beer are you drinking right now?

I have a couple of really nice bottles that I've been looking to break in to for a while. I have a De Cam Oude Lambiek, a few bottles of Spon from Jester King (a 3 year blend and another Syrah and Sangiovese), and some Cantillon on the way. Other than that, normal German: Andechs Dunkel, Agustinerbrau, Hacker-Pschorr Munich Gold, and Rothaus, plus whatever good Oktoberfest are out.
What's the next trend in craft beer?

Brut IPAs from the looks of it because, sure…why not. But realistically? Closing breweries. It feels like it's at a tipping point and the herd is going to thin out a little. Every town has 10 breweries, it just feels unsustainable.
What local brewery should we know about?

It's no "secret" but Interboro is great. I'm biased because I love the people that work there (shout out Mike and Dove), it's not far from my apartment, and they make much more than IPAs. They make a solid range of beers and also have a full suite of spirits.
Tell us about your drinking buddies.

Everything IPAs Suck related is always with my two friends Mike (@mvsalerno) and Matt (@dumpsterdive). We live in 3 different states but are usually hanging at Matt's house in CT. We'll get together with 30 or so different IPAs for a weekend and try to review as many as possible. Mike's a video producer/editor and has been filming our bullshit since college. He is the real talent behind IPAs Suck: filming, directing, editing, etc. Matt is the funniest person I know and usually pushes me to be my worst (in the best way). He's my comedic counterpart. It makes me laugh that through their love of IPAs THIS is what got created. IPAs may be pure dog shit, but they're what gave us an opportunity to hang out more and regress as people at the same time.
What's your favorite beer festival/event?
Zwanze Day at Spuytin Duyvil. I went for the first time this year and had a blast. It's part bottle share, part rare tap list, part gueze and lambic orgy, it's great. I'm actually doing a write up of my experience for beerselfie.com that should be out next week. Make sure you check it out.