Jon Nelsen took on the ambitious project of creating the largest collection of brewery interviews in history. He interviewed some of the biggest names in American craft beer and compiled the responses into a three-book series: One More Beer, Please. We turned the tables on him with a few questions about his experience creating these books.
Check out the interview below and stay tuned: we'll be sharing a few of the interviews from his books in the coming weeks!
What's your background with craft beer?
Shortly after I turned 21, I discovered craft breweries. It started innocently enough with a visit to Selin's Grove Brewery with a couple of friends and developed into a full-blown passion shortly after that. That trip was my first experience with IPAs, Belgian Tripel's, Stouts, and Porters and it really showed me the range of beer that was available, but not always right under your nose!
A few years later, I begged and pleaded my way into working at Mount Gretna Craft Brewery in Campbelltown, PA. I began as a bartender and eventually was working under the owner and head brewer Brad Kleinfelter as an assistant brewer. While that experience was a blast and he was kind enough to allow me to create a few beers on my own, I quickly realized that my passion was for working in the front of the house and helping people discover beers they might not be willing to try without a little push. Brewing is such an artistic and scientific craft that to excel you need to be focused day in and day out on the quality of beer produced and constantly tweaking recipes to push the boundaries and improve the taste.
Working at the brewery and seeing the things that worked and the near misses that didn't inspired me to want to continue to grow in the industry, hoping to open a brewery of my own one day. After that, I took a marketing job with Newfangled Brew Works in Harrisburg PA that allowed me to implement ideas I had on how to drive business as well as continue to work with customers on the front lines.
At the start of Covid, when all breweries in the state were more or less shut down, I decided it was time to learn more about the business aspect of brewing and decided I wanted to interview as many breweries as possible. The thinking behind that was that since most breweries were closed, I might have a rare opportunity to speak directly with head brewers and owners of breweries around the country. I had hoped to get enough information from these breweries to compile into a single book and was shocked when this simple project returned enough interviews to compile a 3 book set that covered breweries from all over the nation.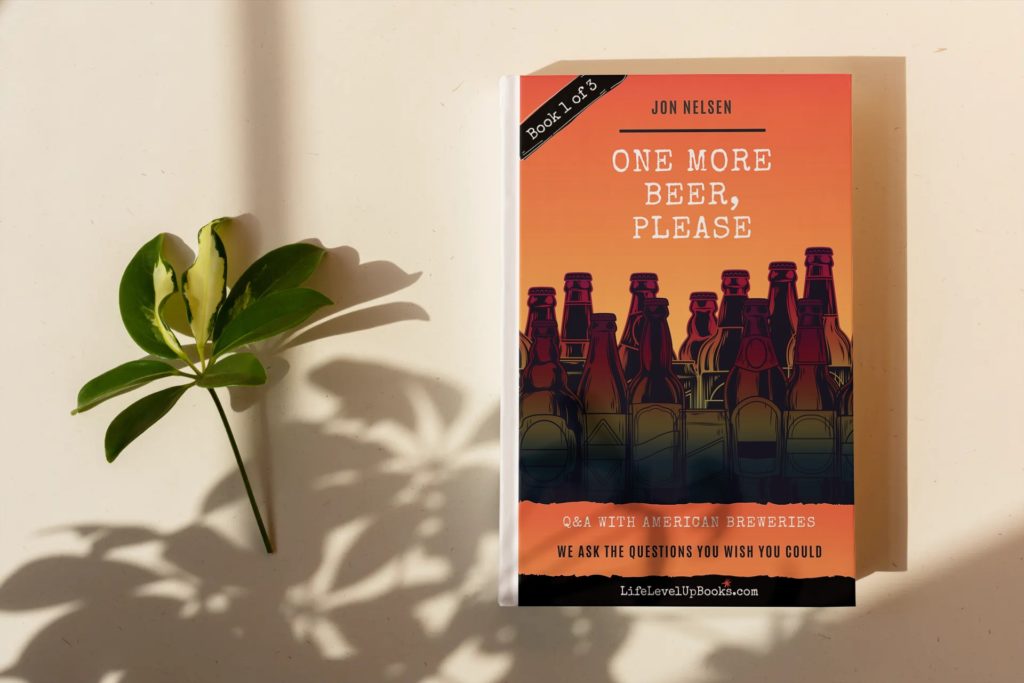 What was your inspiration for creating these books?
My goal for creating these books was to crowdsource enough information from as many breweries as possible. I found that most owners and brewers have very different perspectives on the industry and I wanted to make sure that I understood the big picture rather than just the thoughts and opinions of a few. I hoped to learn from their mistakes, so when the time comes for my own I have well-developed reasoning behind the choices I make.
I also wanted to have some fun with the books and learn if there were any commonalities about the beers and food that industry people enjoy the most. It was outstanding to get a glimpse into the various personalities that make this the most exciting business in the world.
What were you most surprised by with your interviews?
The interviews were surprising in the sheer amount of information that breweries were willing to share. To interview most mature businesses, you might get canned responses from an HR department or the type of vanilla answers that don't really take an opinion about the subject. Because of the newness of the industry, I found that most of the interviews were refreshingly candid and honest about the struggles, pitfalls and opportunities available to someone starting off.
I could also see trends customers were creating and the styles of beer that would grow to be popular soon. This is still a customer-first industry and the breweries that seemed most successful were the ones that actively listened to what the consumer wanted rather than the brewer's or owners' opinions on how things "should be".
Were there any consistent themes with the responses you received?
One of the dominant themes I discovered was the idea of beginning small and without preconceived notions of the path to an ultimate goal. They were all pretty clear about the fact that there are many ways to create and run a brewery, but that if you are open with the path you take from just starting out to successfully running a profitable business, you can make the journey easier and the customer much more satisfied.
Can you tell us a little about a couple of the standout interviews from the books?
Actually, one interview I found most insightful was from Jon Reynolds, brewery consultant at Brewplan, Inc. He really dove into the intricacies of opening and explained some of the best ways to set yourself up for success as a new brewery. The amount of information he provided was one of the most useful interviews from the perspective of a hopeful brewery owner.
Another interview that stood out was when I interviewed a modern-day American monk that uses the brewery to support their mission of serving Christ. I had always known about the renowned beer created by the monks of Europe, but never really considered that the same model might also exist within the US. From the perspective of someone who is just a fan of beer, this one was a can't miss.
Stealing one of your questions from the books: What's your favorite food to eat with beer and why?
I'm a sucker for Mexican food, so I believe that's one of the most enjoyable foods to eat while drinking beer. I think the spices and heat that the food delivers can really bring out new flavors you might not have otherwise noticed.
I was fortunate enough to have gotten to enjoy a chocolate and beer pairing with one of the premier chocolatiers in the world during my time working at Mount Gretna Brewery and was blown away by the nuances in flavor when pairing certain styles of beer with different chocolate. Typically, one thinks of wine as the beverage of choice when doing a multisensory food pairing, but I can attest to the fact that beer can be every bit as complex in flavor and characteristics.
What beers have you enjoyed lately?
I try to drink a variety of beers to keep myself balanced rather than just gravitating towards whatever is hoppiest. Summer its all about pilsners, ipas, sours. The rest of the year, I drink those styles and add in darker and heavier styles of beer. I will always have a special place in my heart for Magic Hat #9 which is as close to perfection as possible.
How did these books inform your path forward in craft beer?
These books gave me a solid foundation for what I envision the perfect taproom to be and helped me develop an idea of the business model that is most suited to my goals and personality. I would say that they also taught me the value of flexibility for creating a business, whether in beer or elsewhere. Best of all, they certainly helped me to better appreciate the attention to detail that goes into a quality beer that might only exist once in a lifetime.