With major elections right around the corner, breweries are taking the initiative to get the vote out.
Average voter turnout for a U.S. Presidential Election typically hovers around 50-60% of the voting-age population. But, with an election coming up this November, civic-minded people from coast to coast are working to increase that number.
Now, craft breweries are getting in on the action by releasing beers that encourage folks to register, vote, and volunteer! Some will even take their message nationwide by offering their brews through online retailer Tavour.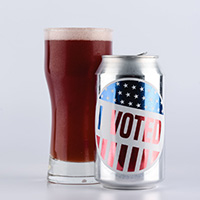 Since nearly 75% of adults now live within 10 miles of a brewery (according to the Brewers Association) these community hubs are positioned to reach a diverse group. Especially younger people under the age of 35, who make up 58% of craft beer drinkers according to a study by marketing company XenoPsi. 
Here are a few of the breweries that are working to get out the vote this election season.
In Montana, Imagine Nation Brewing has teamed up with MontPIRG — an organization that encourages young people to engage with civic issues through education, volunteer opportunities, and internships. Together, they're releasing an IPA called Apathy is Cancelled.
According to the brewery, it will be "a balanced IPA that can entice those of all political persuasions." Because, as the name suggests, it's not about supporting a specific political stance, it's about encouraging everyone to learn about the issues and vote.
That's the same idea behind I Voted from Texas' 903 Brewers. This is a beer that positively drips patriotism, with raspberries and blueberries in a Cream Ale base — even the ingredients are red, white, and blue!
Plus, Cream Ale is one of only a handful of classic styles first created in America! So, instead of a sticker, fans can show they exercised their voting rights with this flashy "I Voted" can and enjoy the fruity and refreshing beer inside.
In some places, craft breweries are even joining forces with state officials to encourage people to vote.
In Kentucky, Secretary of State Michael Adams has partnered with the Kentucky Brewers Guild to design new beer labels that provide voter registration information and urge people to volunteer for shifts at polling places. A general election requires about 15,000 poll workers, and with Covid-19 concerns running high, recruitment has proven more difficult than usual.
"We need younger generations to step up and be good citizens, and so we enlisted the help of Kentucky's craft breweries to reach them," Adams said. A number of breweries, including Monnik Beer Co. and Pivot Brewing Company, will use the specially designed cans for a variety of beers.
A similar effort in Ohio has recruited more than 30 participating breweries, including Zaftig Brewing Company, Fifty West Brewing, and Rhinegeist Brewery, who designed the "Every Vote Counts" label. According to Secretary of State Frank LaRose, this is just one way the state is reaching out to young people in particular.
"We want to get these out into the hands of Ohio's responsible, over 21 beer consumers," LaRose said. The cans direct drinkers to a link where they can register to vote online.
For those looking to try any of this year's 'drink the vote' beers, things might get difficult. Most of the breweries involved don't distribute beyond their home state, so craft beer fans will have to either travel to the breweries, try their luck on trade forums such as BeerXchange.com, or look to online retailers like Tavour.
The app-based retailer works with many of the breweries involved in the various 'get out the vote' campaigns and may enable democracy-loving craft beer fans across the country to get a taste.