I'm not sure I could pick just one. Just as I like to constantly be trying new beers, I also like to experiment with fun new cocktail ideas, so of course beer cocktails are no different.
If I'm honest , my go to cocktail is probably a margarita and in the past I've experimented with beer cocktails using a sour Gose because the salt and the tart just lends itself so perfectly for that combination. But now a days there are a lot of blurred lines between the beer and cocktail world and many beers out there sound more like cocktails than beers. So I decided to experiment with a new recipe.
I decided to make a Gin Fizz using Other Half Brewings Ramos Gin Fizz, a 6.8% Berliner Weisse with gin botanicals, orange blossom water, lemons, limes and milk sugar.
Of course with a name like that it was an obvious connection, but I find when making a beer cocktail, picking a cocktail that has some sort of soda in it is an easy way to incorporate the beer. Simply sub out the soda for the beer and your drink will still have all the right proportions and carbonation with just some added flavors (and alcohol) from the beer.
The recipe for this Gin Fizz was:
4 ounces Sour Beer (Other Half's 'Ramos Gin Fizz' Berliner Weisse)
2 ounces good quality Gin
1 ounce lemon juice
1 ounce simple syrup
1 egg white
Carnation for garnish (optional)
(Serves: 2)
Instructions:
Divide the beer evenly amongst the glasses. (Roughly 2 ounces per drink depending on the size of your glass)
Add the remaining ingredients (except the garnish) to a shaker, without ice. Shake vigorously for 1 minute. This makes the egg white nice and foamy.
Add ice to the shaker and shake again for another minute. Strain into your glasses with beer.
Garnish with an edible flower, lemon wheel, or anything else you think looks pretty!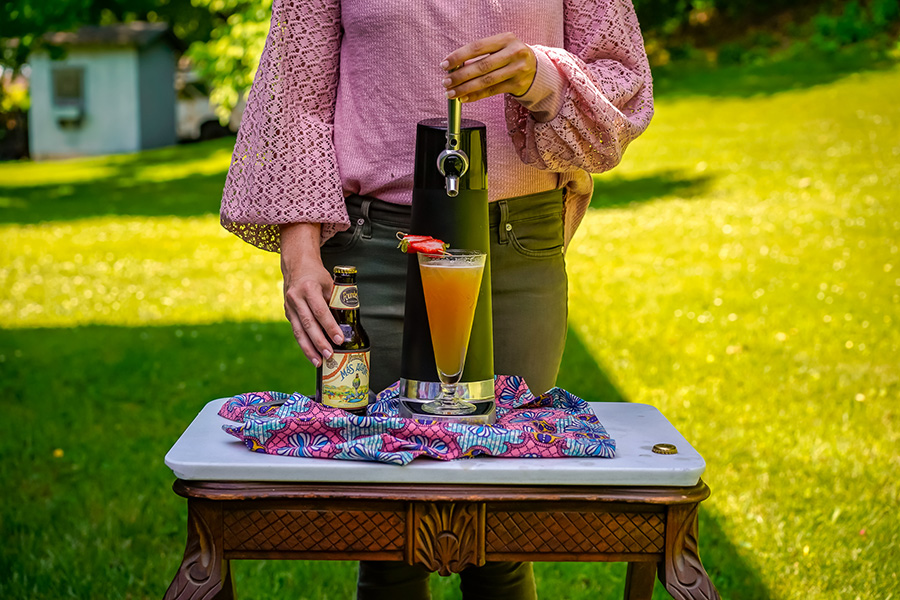 I love the Bee's Knees cocktail, and any time I have the opportunity to make a cool variation I jump at it, like this Beer-y Bee's Knees. I know, the name isn't very creative, but it's pretty straight forward, just like the cocktail. I used the traditional gin and lemon juice base then, added in some strawberries when crafting the honey syrup to give it a little seasonal kick; the hardest decision was, what beer to use to top it off. I ended up with the Founders MÀS AGAVE, because it had more going on than your regular lager, and contributed to the final product. The bitterness worked deliciously, sitting on top of the cocktail and balancing everything with each sip I took.
Recipe:
1.5 ounces Gin
1 ounce Lemon Juice
½ ounce Honey Strawberry Simple Syrup
Top with Founders MÀS AGAVE (approx.. 2 ounces)
Method:
Combine all ingredients, except beer, in a cocktail shaker with ice
Shake to chill and combine ingredients
Strain into a cocktail glass over fresh ice
Top with Founders MÀS AGAVE
Garnish & Enjoy!
A Hispanic twist on a beermosa, with one part orange juice to four parts Saison (in my case Saison DuPont) with a squeeze of lime, a rim of Tajin spice, and an extra lime slice for aesthetics. The orange juice mellows the natural pink peppercorn spice of the Saison. The lemon hint that you normally would taste from Saison DuPont, compliments the citrus of the orange juice and the spice of Tajin. The lime adds additional acidity, and blends with the salt from the Tajin just enough. Finally, you can add the dregs from the bottom of the DuPont bottle to bring out an additional layer of complexity of slight bready flavors. I have also had friends add hot sauce to give this a kick, but even for a spice-lover like myself, I can take it or leave it.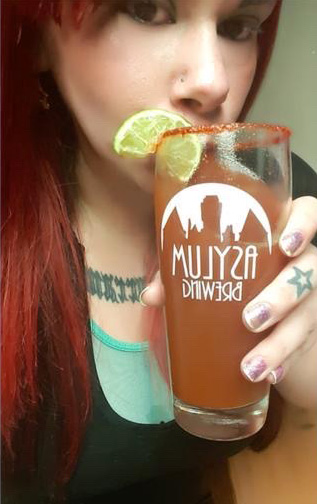 Michelager!
Start by pouring some chamoy and tajin on separate sides of a plate…rim the cup with chamoy first,followed by the tajin..it will stick perfectly! Next add some splashes of worcestershire sauce, then 4 or 5 drops of preferred hot sauce..next add clamato …so that about 1/4 of glass is filled….stir well! Finally add Scurveza Mexican Lager brewed by Asylum Brewing until its right below the rim… squeeze some fresh lime and enjoy!
Stephanie
I like a Dark and Stormy IPA. A Dark and Stormy is similar to the popular Moscow Mule, only with dark rum instead of vodka. I like to add some IPA for a craft beer twist.
For the IPA something juicy or citrusy is best to compliment the lime and rum. I like the hop bite the IPA adds, so I prefer something with some bitterness. At 60 IBUs Secret Trail's Hazy Trail worked great.
Add juice from ½ a lime to your glass.
Add a few ice cubes.
Add 6 oz of chilled ginger beer.
Add 6 oz of chilled IPA.
Add 1 oz dark rum.
Stir.
Garnish with lime.