Quick reviews of six beers we tried recently.
Angry Chair & Westbrook Zoose Joose
In the ancient Greek myths, ambrosia is the drink of the gods, often depicted as conferring longevity or immortality upon whoever consumed it.
It's also a fruit salad popularized in the late 19th century.
Now it's a beer.
Angry Chair and Westbrook's collaboration, "ambrosia-inspired" Zoose Joose is a wheat ale brewed with tangerine, pineapple, cherry, coconut, lactose and marshmallows.
The most notable thing about this beer is how well all the adjuncts work together. It is surprisingly not muddled, with each ingredient providing a distinct flavor. The cherry, pineapple, and lactose/marshmallow were up front for me, with the coconut contributing the least. The beer had minimal head and light carbonation.
I found the inclusion of lactose and marshmallow to be a bit much. I think the beer would be better with one or the other, or less of both. Overall, a really interesting and tasty brew though.
Dust Bowl Buck
This Hazy Double IPA isn't second fiddle. You're gonna have love as soon as you taste the clean citrus hop flavor. Open up your heart to the smooth, silky mouthfeel. This beer is a surprisingly crushable at 8.5% so try to act naturally. My heart skips a beat with the juiciness of Amarillo, Citra and Mosaic hops.
Sierra Nevada Estate Farmhouse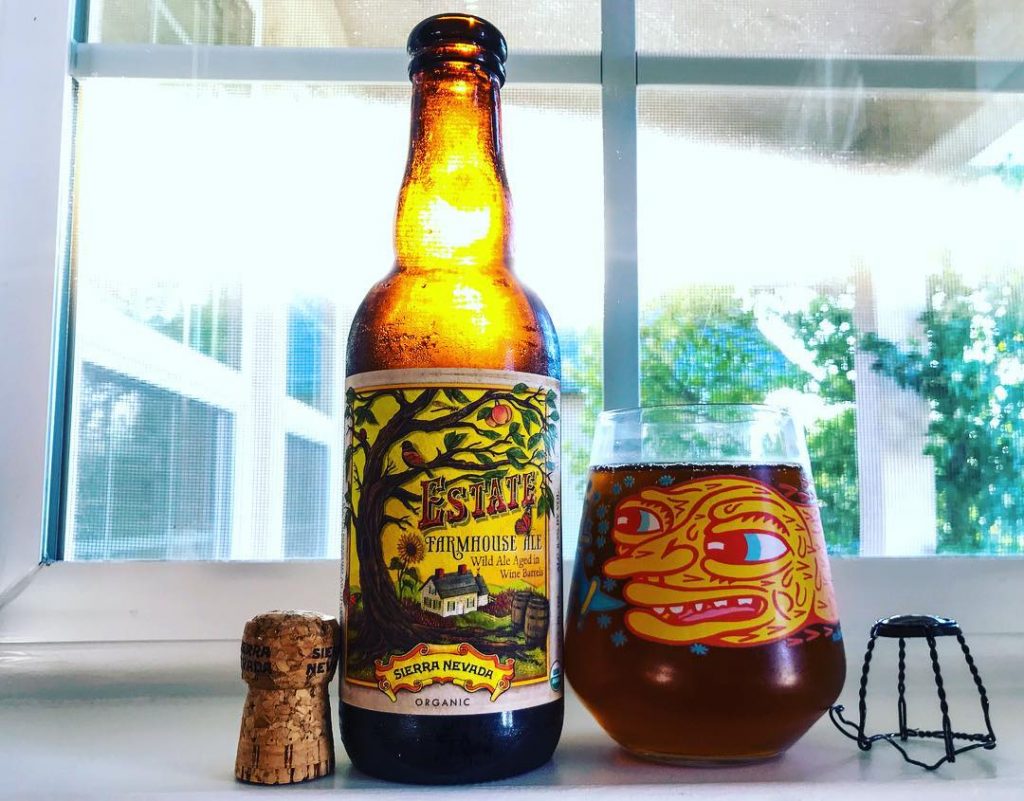 Like Sierra Nevada, I was born in Chico in 1980, so I love seeing their Estate beers. It's great to see them branch out from their usual Estate IPAs.
This Estate Farmhouse Ale was spontaneously fermented in a peach orchard and aged in wine barrels. The wine barrel influence is evident, with some sweetness, and a hint of farmhouse funk. Overall a bit sweet, muddy, and boring. I'd prefer some more distinct farmhouse flavor and less toffee maltiness, but I like the new direction they seem to be taking with this addition.
Russian River STS Pils
The dark days of Russian River not distributing to Chico are finally over. Pliny the Elder, Blind Pig, and STS suddenly showed up all over town recently.
This "Keller-style Pils" is delightful! It's super crisp with a dry, bitter finish. It's packed full of bready malt and lemony/peppery/earthy hops.
This is a world class pilsner, and I'm stoked to have it more readily available.
Tahoe Mountain's Mayor of Midtown
This take on a Hazy IPA was tasty, but not what I expected. I'm curious about what yeast they used for this as it has hints of belgian flavors. Definitely yeast forward for an IPA, with earthy, melon hop flavor and medium bitterness. This beer reminds me of Toppling Goliath's Pseudo Sue, but not quite as good.
Double Nickel's Weekend Warrior
This Hazy Pale Ale is double dry-hopped with Idaho and Citra. It's a really nice showcase for these citrusy hops. Weekend Warrrior has a sweet orange aroma and is packed with orange, mango, and lime flavor. Weighing in at only 26 IBU it still has a noticeable bitterness, particularly lingering in the finish. It has a medium body and foamy white head that dissipates quickly. Double Nickel nails it once it again with this delightful brew. I also appreciate the 19.2 oz tall can!