This is Steve Draper, but everyone at 21st Amendment Brewery calls him Dogger. He's a brewer at their San Francisco pub.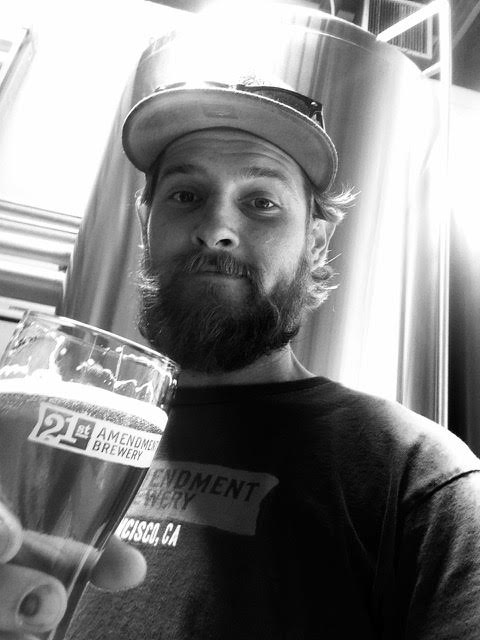 Tell us a little about yourself and how you got started brewing.
I started brewing apple cider in 2012 then started watching our head pub Brewer Jaron home brew batches in his very small kitchen. I kept making creative ciders and jaron has continued making great beers. Over the last two years I've been lucky enough to work with 21st amendment and keep the creative juices flowing.
What's your favorite beer and food pairing?
Tacos and a nice light Mexican lager.
What's a common misconception about your job?
A lot of time people think that beer is brewed and consumed the same day… unfortunately it takes a few more weeks to see a finished beer in a glass. Cold and carbonated.
What's your go to music in the brewhouse?
Bay Area hip hop always keeps good energy in the brewery but we have the most fun creating playlists for the beer we are brewing that day. Irish red? Irish pub music. German style heff? German death metal… you get the picture.
What trend in craft beer are you excited about?
I'm excited to see the change in beer happening right now where it's all about drinkability and less about challenging your palette against overly bitter flavors.
What's your favorite non-21A beer?
I moved from Eugene Oregon to the bay so anything Ninkasi has a special place in my fridge.
Tell us two truths and a lie about yourself.
I am not a morning person.
I work as the assistant Brewer for 21st amendment in San Francisco.
I love waking up early.
.