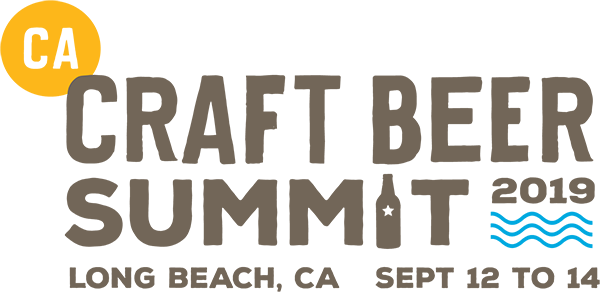 The California Craft Beer Summit and Festival is quickly approaching! Before heading south I checked in with Smog City's Laurie Porter to get her take on this exciting event.
Have you been to the CA Craft Beer Summit/Festival before? What were some highlights?
I have been attending the Summit since its inception. I was actually on the original CCBA Summit Steering Committee to decide if the inaugural event was a success (it was!) and if we should continue to grow the Summit (wholeheartedly said YES) and now here we are, in Long Beach celebrating CA craft beer!
As for what Im looking for, I'm a huge fan of the Tap Talk- industry people sharing their experiences and knowledge always gets me excited. I also love the Saturday beer festival. An entire beer festival dedicated to California craft beer is like a dream come true.
What summit speaker are you excited about?
I have not had a lot of opportunities to hear Garret Oliver of Brooklyn Brewery speak plus craft beer icons David Walker(Firestone Walker) and Kim Jordan(New Belgium) always have words of wisdom to walk away with!
What do you have planned for the fest? What will you be pouring?
We have a beer and food pairing that is really exciting. We've partnered with Chef Minh of Porridge and Puffs to showcase our love of fruit, smoke, and alternative approaches to beer and food reuse. We're bringing Echo Echo Echo, a foudre aged sour blended with second use peaches and culinary lavender. Chef Minh created an Echo of our Echoes beer using the peach pits from our beer, smoked lardon, black eyed pea miso with ginger and negi, cinnamon-basil pickled peaches with a lemongrass porridge and seasonal flora…now that's a mouthful!
For the Summit beer festival, we're bringing California Love, an Imperial Red brewed with ingredients showcasing the best of NorCal and SoCal, From LA Wit Love, Better Weather Sweater South Bay IPA and Night Howler, a blend of dark saison aged in puncheon barrels with Brettanomyces blended with a yearling sour brown and a late black cardamom addition- it's an exquisite beer from our Wood Cellar and I'm confident festival goers are gonna be super excited to try it!
What brewery/beer are you excited to check out at the fest?
I'm sure there will be a ton of lagers, so I'm going to work my way through all of them! We've been brewing Little Bo Pils for nearly 8 years now but this year we've seen a huge increase in "lager love". We brewed 5 unique lagers over the summer and they have been very popular! Can't wait to see what lagers CA breweries are brewing up too.
How does this event compare to other beer events you've been to?
The CA-centric approach to the Summit makes this a truly unique event. I love the focus on our industry and especially love highlighting CA beer. We've have such diversity of beers across the state and the Summit really showcases that!
What's unique about the California craft beer scene?
The shear size of California lends itself to diversity of tastes plus we're the nation's agricultural center so many breweries in California love playing around with fresh fruits, herbs and food friendly beers. I've always enjoyed how wide ranging the craft beer palates are across the state and our breweries are a direct reflection of that range.