Garrett Oliver Announces Michael Jackson Foundation
Author and Brooklyn Brewing brewmaster Garrett Oliver announced the formation of the Michael Jackson Foundation for Brewing and Distilling. The foundation will provide scholarships and support, predominantly to people of color.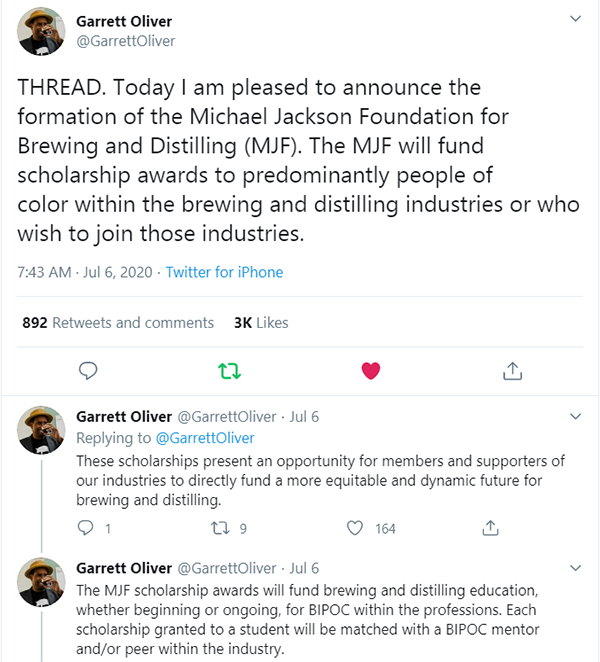 The brewing scholarship will be named the Sir Geoff Palmer Scholarship Award for Brewing. Geoff Palmer, 80, born in Jamaica, is a Professor Emeritus of Heriot-Watt University in Edinburgh. In 1989 he became the first black professor in Scotland. In 1998 the American Society of Brewing Chemists honored him with the Award of Distinction, considered the "Nobel Prize of Brewing". Sir Geoff Palmer has also been one of the most prominent civil rights authors and activists in the UK for decades.
Brewers Association Layoffs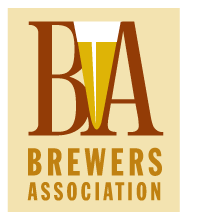 The Brewers Association announced it would shed salaries and reduce funding and support to state guilds. The organization also said in April its administrators would take undisclosed pay cuts.
Layoffs on June 25 included long-time staff members Julia Herz, the former craft beer program director, and Acacia Coast, the state brewers guilds manager. In April, the Brewers Association cut its staff by 25% and announced tiered pay cuts for its management team.
These changes take place as COVID-19 affects the brewing industry, and the Brewers Association increases its focus on national lobbying.
Anheuser-Busch to Pay Record $5 Million for Trade Practice Violations
Anheuser-Busch InBev has agreed to pay a record $5 million offer in compromise (OIC) for alleged trade practice violations related to sports and entertainment sponsorships, the Alcohol and Tobacco Tax and Trade Bureau (TTB) announced. Additionally, A-B's importer and wholesaler permits were suspended for two days in Littleton, Colorado, and four days in Denver. The $5 million fine is the largest offer in compromise collected to date by the TTB. According to the TTB, the alleged violations of the Federal Alcohol Administration (FAA) Act included:
"Entering into sponsorship agreements with various entities in the sports and entertainment industries requiring concessionaires and other retailers to purchase A-B's malt beverages and prohibiting them from purchasing specific competitor brands;
Inducing sports industry concessionaires to purchase A-B's malt beverages by furnishing fixtures, equipment, and services;
Reimbursing, through credit card swipes, retailers for the cost of installing malt beverage draft dispensing systems, thereby inducing them to purchase A-B's malt beverages;
Requiring retailers to purchase A-B's malt beverages in return for such retailers' use of equipment A-B furnished them free of charge or below market value;
Using third parties (business entities and payment services) to provide money or things of value to retailers in exchange for placement of A-B's malt beverages; and
Paying retailers purportedly for items such as consumer samplings, when, in fact, the retailers did not receive the goods or services purportedly purchased, and such payments were actually for A-B product placement."